class resources | expired extra-credit assignments | archived freebies, etc.






instructions:

tomorrow! we will be mimes! (look at this picture! dress Euro/BRIT/ with lots of scarvers, black coats, mime paints, hats, etc!!!!!)
why? the same reason Antonioni used them at the beginning and end of his film BLOW-UP! to underscore the lived relationship between the "real" world and the world of performance, between the mundane sameness of the quotidian and the rich irreality of fiction, photography, and more generally, the world of representation.
our sinematic bodies will, through our performance, undermine the reality of SDSU and inject some theatre into a campus in dire need of excitement.
here's the plan
12 noon take your exam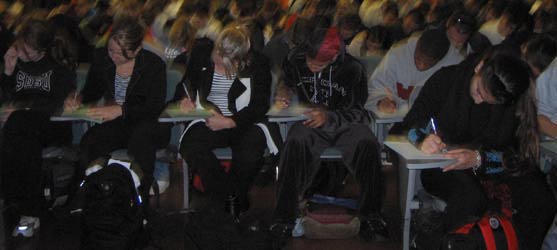 12:40 finish your exam
12:45 start putting on your makeup
12:50 sharp with yells, hoots and hollers we will emerge from hardy tower 140 yelling and laughing (but not talking) and running out the front doors and through the Hepner Hall ARCHWAY, from there we will run and lurch to the left past Love Library and toward the starship enterprise glass dome of the library, up the steps and to the quad in front of the presidents office.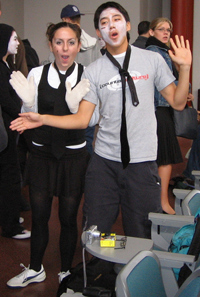 there we will assemble in a tennis court rectangle about the size of a regular tennis court--any students trying to walk onto the court should be stopped with EXAGERRATED MIME tactics (raise your hands, show your palms, etc).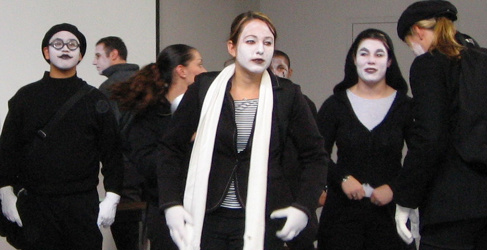 Mimes are NOT subtle--but they are not rude either. I will pick someone from the court perimeter and begin our tennis game.... at some point I will hit the ball out and we will wait and see if any spectator throws the ball back into the court......
tell your friends to come and watch and participate.
after this spectacle. we will run to the new trolley stop and play a game of baseball; i will position you so don't hesitate when called to assume a role.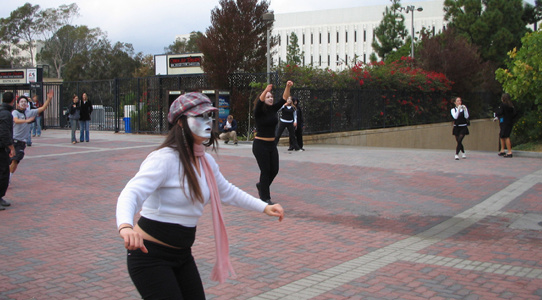 then what?

who knows!

arrests?
television?
a beer at Monty's /Louie's ?
who knows!


yours,

headPROFmime nericcio
-------------------------
-----------------------------
Last three extra-credit chances; ALL extra-credit writing
assignments must be stapled to TWO "template" example
reviews that you have carefully read AND used as models
for your own efforts; the MORE your work resembles the
actually published models, the more likely your work will
achieve a higher grade. ALL extraCREDIT papers should
be 500 words (two-pages, double-spaced) due Thursday,
December 9, 2004 by 2pm under my door at AH 4117
except for extraCREDIT 3 that is due Monday December 13 at noon.
extraCREDIT 1: You work for the NEW YORK TIMES,
the LA TIMES or THE GUARDIAN (UK). Review the in-class
performance of Marlene Forte based on the script by OLIVER MAYER.
In addition to the hard-copy review you will slide under my door
attached to your two model reviews by published professional
ARTS journalists, you will also EMAIL a copy of your review
to playwright OLIVER MAYER care of: omayer@usc.edu.
Mayer, Oliver Assistant Professor School of Theatre | USC
(213) 821-1545 omayer@usc.edu
extraCREDIT 2: SinemaniacEURO night; in lieu of a class party
we will have one last sinema/social opportunity with a
screening of Federico Fellini's LA DOLCE VITA the night of
WEDNESDAY DECEMBER 8, 2004. The movie shows at
4:45 AND 8:30pm and is, I believe, $7.50 with a student ID.
Plan to dress like a cool EUROchic type and show up at the
KENSINGTON GRILL next door to the KENSINGTON
CINEMA before the 8:30 show to hang out, knock back a
soda or a martini, schmooze and say your bon voyages!
Your extra-credit is to review the film as if you are J. HOBERMAN,
movie reviewer extraordinaire for the VILLAGEVOICE.COM.
BEWARE... this cool flick is amazing, but will taste the endurance
for non-true sinemaniacs--the film is THREE hours long,
black and white, in Italian and with subtitles!!!!
Ken Cinema 4061 Adams Avenue San Diego, CA 92116
619) 819-0236 La Dolce Vita (4:45) 8:30
Stereo, ITALIAN Sub-Titled

extraCREDIT 3
Attend and review the reading outlined in the following description;
you should review the EVENT, DGWILLS BOOKSTORE,
December 10, 7pm, as if you worked for the
CHICAGO SUN-TIMES, the LONDON DAILY
TELEGRAPH, or the VILLAGE VOICE; here's the details:

From: estela eaton <estela_drkaplan@yahoo.com...>
Subject: Pacific Review Reading

Early warning! I will remind y'all when the date gets
closer, but just in case you have tight holiday
schedules, this is a reading to commemorate the 2004
issue of pacificREVIEW. Several of your cohorts will
be there:

Reading at D.G. Wills!

Collette LaBouf Atkinson, Brandi Bell, Estela Eaton,
Guillermo Nericcio Garcia, Cassandra Gonzalez, Sandra
Hunter, Ron Israel, Maggie Jaffe and Leon Lanzbom will
be performing at D.G. Wills Books on December 10th,
7pm, to commemorate the Decay and Decadence issue of
pacificREVIEW.

pacificREVIEW has published high-quality fiction,
poetry, essays, and artwork since 1972. The journal
showcases the work of emergent literati, pairing their
efforts with the work of established artists. After
the nineteenth century Decay and Decadence movement,
this issue further explores the role of decadence in
art as a progressive reflection of decay in society.
Like funhouse mirrors inverting the relationship
between inflator and inflated, the works presented in
this issue foreground the cataclysmic and much
anticipated demise of the artist against the summits
of aestheticism, hence fashioning her after the
herculean strength and vulnerability of her subject.

D.G. Wills Books, La Jolla's most decadent collection
of new and scholarly books and home of the La Jolla
Cultural Society, is located at 7461 Girard Avenue, La
Jolla Ca. 92037 (858) 456-1800. More information is
available on their website: www.dgwillsbooks.com and
the pacificREVIEW website: pacificreview.sdsu.edu.
This event is free and open to the public.
that's it; we are almost done! thanx so much
for all your cool work, your imagination,
enthusiasm and brilliance; if you feel this
class was not a total waste of life, don't hesitate
to visit the following portals of anonymous rhetorical
love and abuse:
GTA MIKE HIGH
http://www.ratemyprofessors.com/ShowRatings.jsp?tid=287283
GTA/GENERALISIMO/DR LEON LANZBOM
http://www.ratemyprofessors.com/ShowRatings.jsp?tid=203139
GTA LEAH SNEIDER
http://www.ratemyprofessors.com/ShowRatings.jsp?tid=520504
GTA TAWNYA RICHARDS
http://www.ratemyprofessors.com/ShowRatings.jsp?tid=248929
PROF BILL NERICCIO
http://www.ratemyprofessors.com/ShowRatings.jsp?tid=38039
and try to be as honest as you can be;your
colleagues really use this site!

yours

bill nericcio
memo@sdsu.edu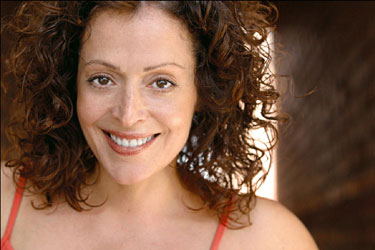 LOOK WHO IS COMING TO OUR CLASS!!!! CLICK Marlene Forte's color picture to download a copy of the script for her performance; there is a "small" role for a male actor (read to the end!); any volunteers?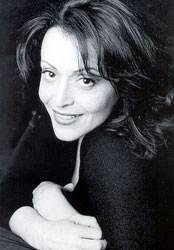 Marlene Forte was born in Cuba and raised in Union City, NJ (with all the Cubans who never moved to Miami!). A founding member of LAByrinth Theater Company in NYC, Ms Forte just enjoyed a successful run of Portland Center Stage's ANNA IN THE TROPICS. She has received international and critical acclaim in indie films like Jim McKay's OUR SONG, HBO's REAL WOMEN HAVE CURVES and LENA'S DREAMS. Some of her theater credits include UNMERCIFUL GOOD FORTUNE (Seattle Rep); BY REASON OF and CUTTING OPEN WINGS (Intar); NIGHT SKY and STANDING ON MY KNEES (Hudson Guild). TV recurring and guest star roles include NIP/TUCK, THE GEORGE LOPEZ SHOW, CSI:MIAMI, MY WIFE AND KIDS, CROSSING JORDAN, FAMILY LAW, JUDGING AMY, FOR THE PEOPLE, AND LAW AND ORDER, just to name a few. This spring she will workshop DIAS Y FLORES by Oliver Mayer with LAByrinth in the Kitchen Series at the Public Theater in NYC. Other indie credits include; THE LOVE MACHINE and CUSP (IFC); MOMENT TO MOMENT and WHAT REALLY HAPPENED DURING THE CUBAN MISSILE CRISIS (Showtime); and the soon to be released INDOCUMENTADOS (Leonardo Ricagni).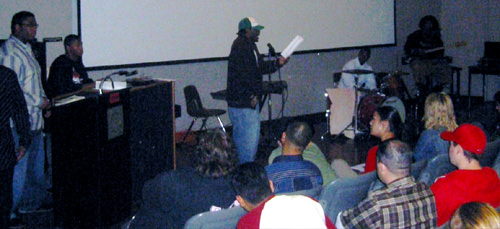 Bennie Herron & 1Akkord are loose in da sinematic house!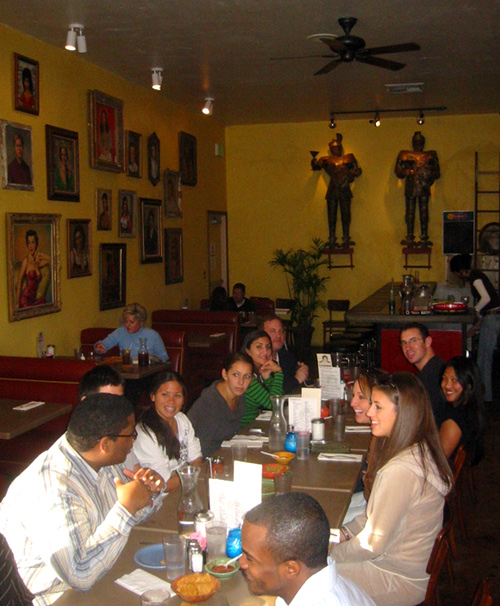 Some of the beautiful people at the reception at PONCE's.
the BIGscary ESSAY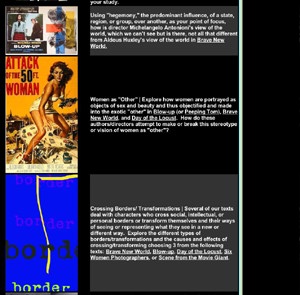 NEW & UPDATED WRITING PROMPTS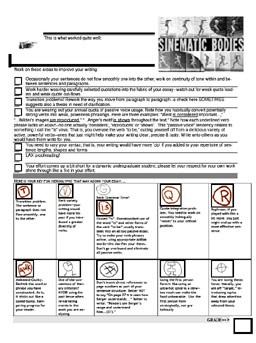 eval-sheet | avoid mistakes b4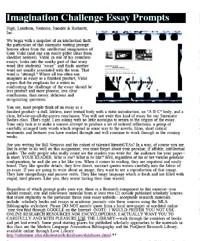 old essay prompt sheet
photography with a sinematic quality
http://www.thehaefners.com/kap/360panos/?p=0
Aileen Gonzales and Rachael Brockett, Frenchie artistes-types
after the Lea Dennis show at the ART Building.

CENSORING THE SINEMATIC BODY! Click the "crown."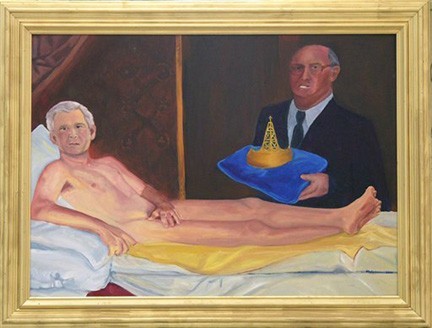 LITERARY Pharmaceutical Companies!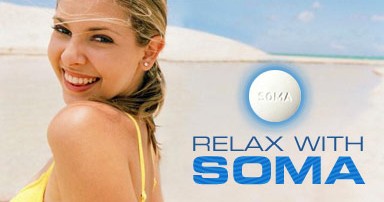 An Artist's sinematic vision of a Shakespearean scene.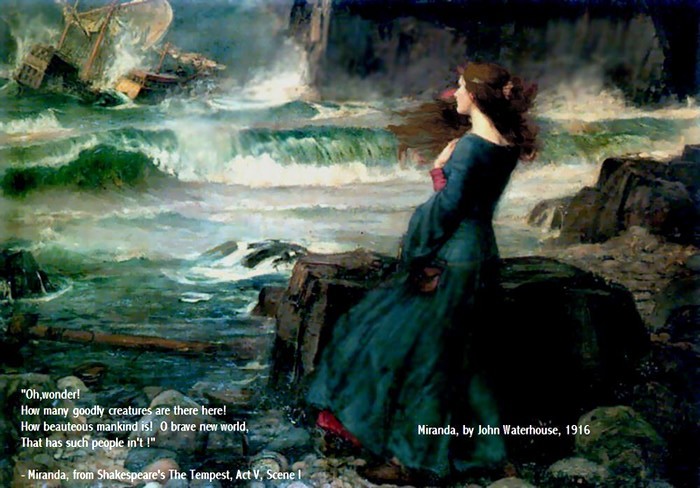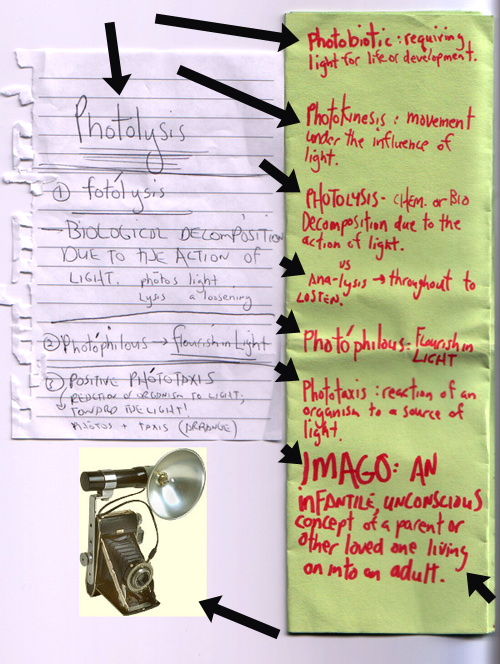 13 ideas in Huxley's Head!
PAGE NUMBERS REFER TO THE HARPERPERENNIAL TRADE PAPERBACK EDITION OF BRAVE NEW WORLD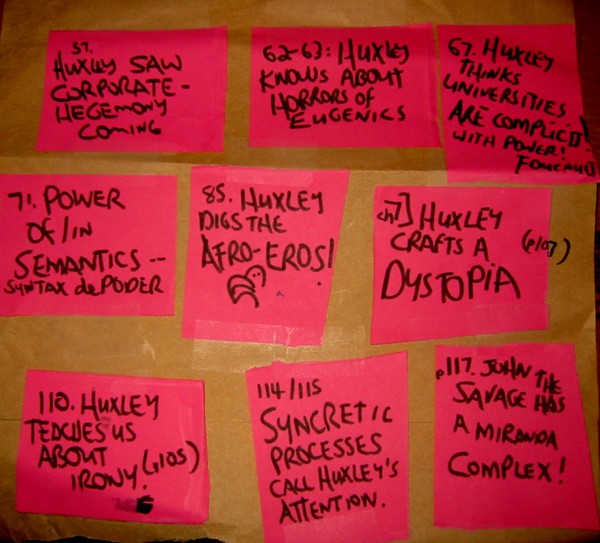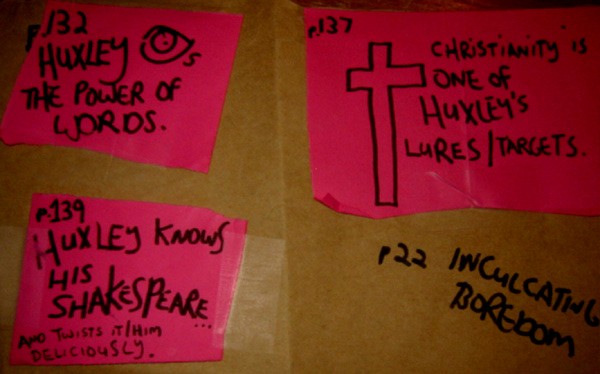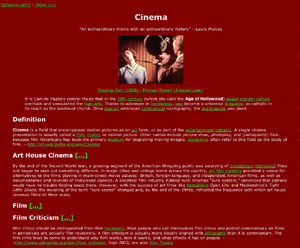 New | cool sinematic research resource...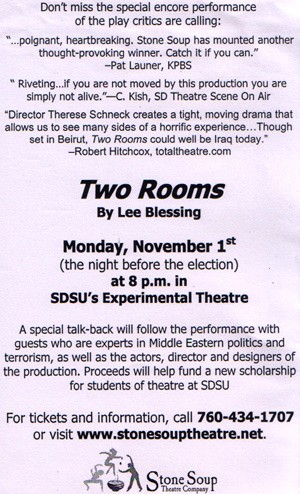 New EXTRA-CREDIT Assignment!
You are a theatre reviewer for the NEW YORK TIMES--be sure to read and xerox at least THREE reviews from The Times that you think are well-written and zesty (staple these to your review when you turn it in so that I can see whom you modeled yourself after. What play do you review? (INFO appears here opposite). It's not cheap--but good theatre costs! 9 bucks for SINEMATIC BODIES students; just be sure to say that when you call up for tickets! Your work is due Monday November 22, 2004 at 1pm--slide it under my door AH 4117 or put it an envelope with my name on the outside and leave it for me in the English Department Office, AH Fourth Floor.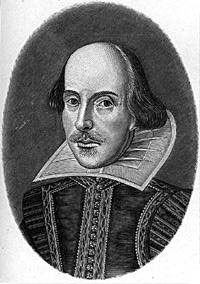 Shakespeare's THE TEMPEST passages for BRAVE NEW WORLD appear at the bottom of this page.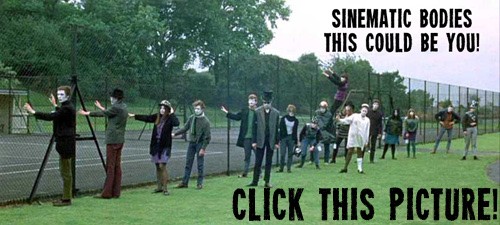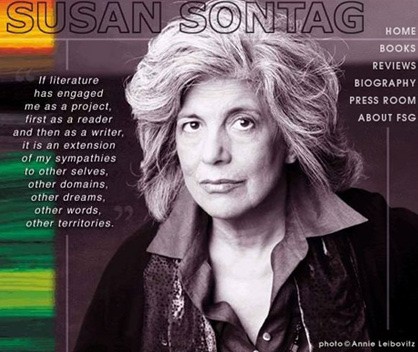 Sontag Readings new; more on Sontag @ susansongtag.com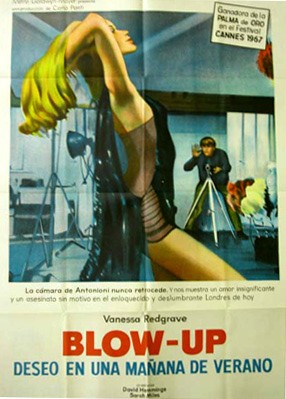 BLOW-UP REVIEW and Interview/Retrospective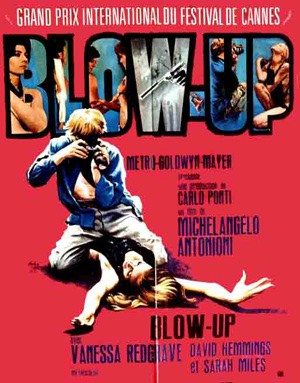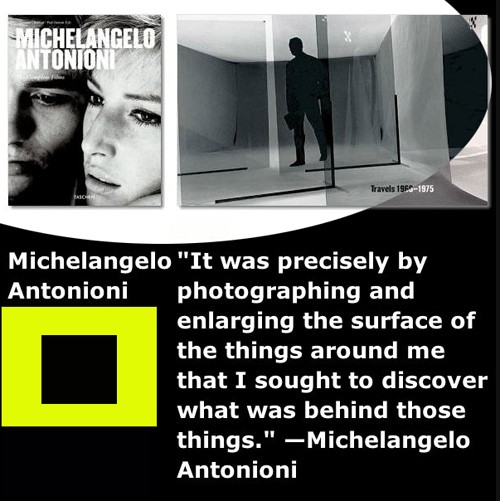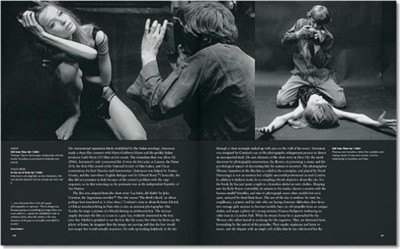 To: memo@sdsu.edu
Subject: Michelangelo Antonioni - Book Signing
Date: Wed, 29 Sep 2004 19:07:38 +0200
From: "TASCHEN News" <contact@taschen.com>
TASCHEN News September 29, 2004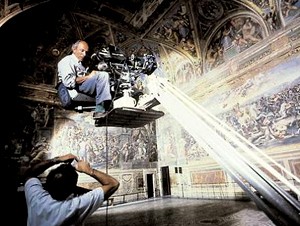 Michelangelo Antonioni - Book Signing
TASCHEN is happy to invite you to meet Seymour Chatman who will sign his book "Michelangelo Antonioni, The Complete Films" and discuss the director's work on Wednesday, October 6th, 2004 from 6:00 to 8:00 pm.
TASCHEN Store
354 N. Beverly Drive,
Beverly Hills, CA 90210
Tel: 310 274 4300
Press contact: 323.463.4441
Click here for further information!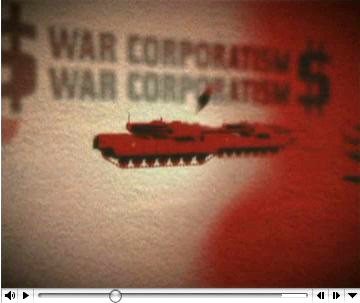 Yet another cool experimental film, tipped to me by a cool sinematic student: Christiana Bellatorre--this one is called WHAT BARRY SAYS by Simon Robson. Click the image above if you have a broadband connection and want to see a sinematically political, and politically sinematic short film expermiment.

PanOptic's look into Eastern Bloc research of practical methodologies of brainwashing and thought control through the use of alternating light frequencies and remote devices. PanOptic Collective speaks: "Japan was the initial starting point and inspiration for this absurd work of fiction. When we heard about the children who had gotten seizures from watching stroboscopic imagery on TV, we starting thinking about the potential for moving images as weapons. We began experimenting with analog and digital processes for creating the most disturbing imagery possible (keeping a bottle of aspirin nearby). Once we had created these "visual weapons" we wrote the story around them, creating an aesthetic we call "eastern European futurism" along with a pseudo history of Hungary during WW2 and present."
CSODA POK 2 | American Style ???

Two of your cool colleagues, Kelly McCluskey and Kristin Selland, have tipped me to a well-crafted piece of sinema. Stephen Grasse and the crazy artists and writers at GYRO ADVERTISING (aka BIKINIBANDITS) and FUCK HOLLYWOOD Productions have teamed up with the band A PERFECT CIRCLE and have produced a short film that echoes the views of CSODA POK but with a decidedly "American" twist. Review CSODA POK and then view this short film and consider the both the similarities and differences between the two short films. Students of the class who view this assignment as political propaganda are free to avoid this link and/or relieve their dis-ease with a visit here.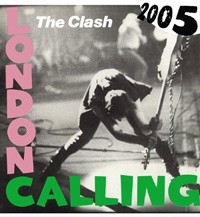 JOIN the LONDON 2005 infolist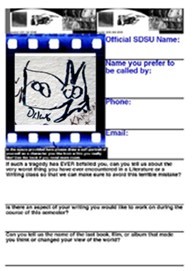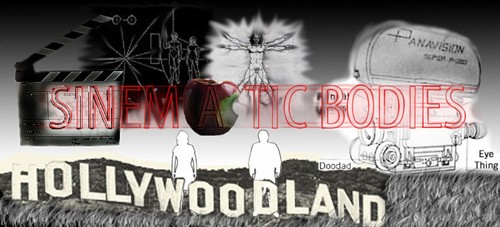 One of your colleague's, Joe Skiff, has weighed in with his own graphic take on our Intro to LIT and FILM experiment!
And, now, another!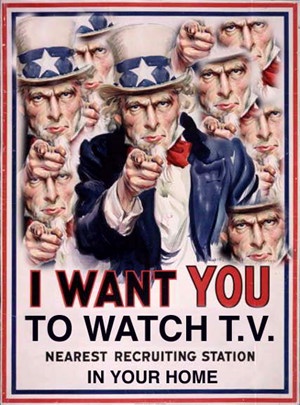 Hollywood Freaks
BECK
Hot milk
Mmmm...tweak my nipple
Champagne and ripple
Shamans go cripple
My sales go triple
We drop lobotomy beats
Evaporated meats
On hi-tech street
We go solo
Dance floors and talk shows
Hot dogs, No Doz
Hot Sex in back rows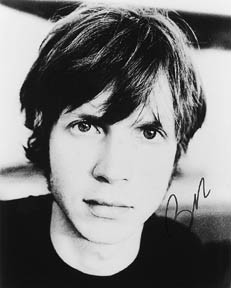 I wanna know what makes you scream
Be your twenty million dollar fantasy
Treat you real good
Expensive jeans
Hollywood freaks on the Hollywood scene
Touch it real good if you want a piece
Party people know I'm that type of freak
People look so snooty
Take pills make them moody
Automatic bzooty
Zero to tutti fruitti
Sex in the halls
Niagra Falls
Local shopping malls receive
Anonymous calls
Hot like a cheetah
Neon mamacita
Eat at tacoria
Pop lockin' beats from Korea
Looking like jail bait
Selling lots of real estate
Looking like a hot date
Banging like an 808
Do you want to feel this?
Do you want to feel this?
Norman Schwartzkoff
Something tells me you want to go home
Champagne, bibles
Custom clothes you own
Calling up from special area codes
Hollywood nuns with the Hollywood phones
I got nothing to do, nowhere to go
I'll tell you what you want
If you want to know
Satin sheets
Tropical oils
Turn up the heat
Till the swimming pool boils
Let all the neighbors
Read it in the papers
Making all those gentlemen cry
Realistic tears
Jockin my Mercedes
Probably have my baby
Shop at Old Navy
He wish he was a Lady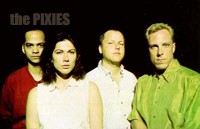 Where is My Mind
With your feet in the air
And your head on the ground
Try this trick and spin it, yeah
Your head will collapse
But there's nothing in it
And you'll ask yourself
Where is my mind
Where is my mind
Where is my mind
Way out in the water
See it swimmin'
I was swimmin' in the Carribean
Animals were hiding behind the rock
Except the little fish
But they told me, he swears
Tryin' to talk to me to me to me
Where is my mind
Where is my mind
Where is my mind
Way out in the water
See it swimmin' ?
With your feet in the air
And your head on the ground
Try this trick and spin it, yeah
Your head will collapse
If there's nothing in it
And you'll ask yourself
Where is my mind
Where is my mind
Where is my mind
With your feet in the air
And your head on the ground
Try this trick and spin it, yeah
"Now self-destruction..."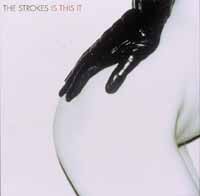 Artist: THE STROKES Lyrics
Song: Soma
(courtesy the watchful eyes of sinematic body, Anson Lam)
Soma is what they would take when
Hard times opened their eyes
Saw pain in a new way
High stakes for a few names
Racing against sun beams
Losing against bad dreams
In your eyes
And I am
Stop
And go
In your eyes
See I am
Stop
And go
In your eyes
Let's go
When I saw her for the first time
Lips moved as her eyes closed
Heard something in his voice
"And I'll be there", he says
Then he walks out
Somehow he was trying
Too hard to be like them
Well I am
Stop
And go
In your eyes
And I am
Stop
Oh, darling, let me go
Tried it once and they like it
Then tried to hide it
Says, "I've been doing this 25 years"
But I'm not listening no more
And these friends, they keep asking for more
Oh, yeah
Oh, but that's it.
added september 8, 2004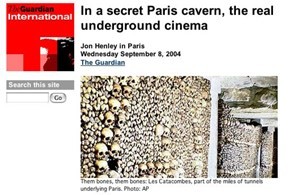 odd cinema/sinema tale from europe
are you a bad speller? go here
speech issues? go here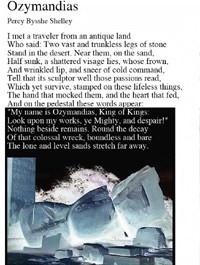 ozymandias graphic from class lecture
Ephemeral Dreams
by Gabe Harris
Melting soft into oblivion,
running smooth past reality,
I've lost my dream.
Searching for a luminous love
among Monet skies
dripping tangerine syrup
into an unsearchable realm
of meandering conscientiousness.
A certain utopia lying nude,
bated with raw anticipation
just beyond a tangible touch,
a silky screen runs like water
beneath my eager mind,
drowning me in a faux reality
soaked with an unintended lie.
There is a soft oblivion
easy to slip into, hard to let go,
or maybe it's the other way around,
I've been lost in both,
so many trips have smeared the line
of dreams eternally submerged
between the types of light
that enter my I.
I don't know when my dream was lost,
but I can ease my eager mind,
whenever it is I please by
coaxing my eye
to the surface,
of that watery screen.

cool upcoming local film event: http://www.mopa.org/pages/exhipages/upcomex.asp
imperial beach film festival: http://www.ibfilmfestival.com/
ending september 12: http://mcasd.org/exhibitions/index.asp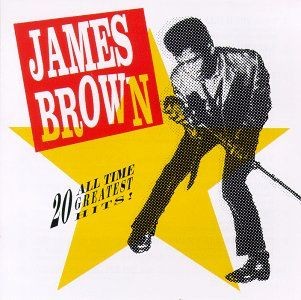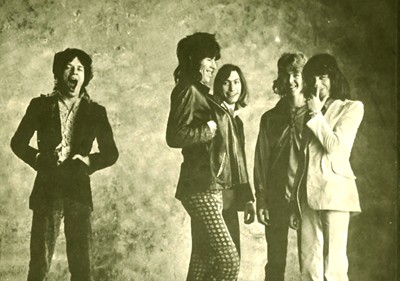 the rolling stones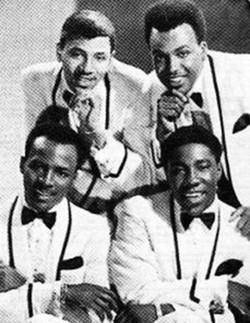 ship of fools
paint it black
von
EXPIRED EXTRA CREDIT TWO
You are invited to a Preview Screening of
Visiones: Latino Art and Culture
featuring San Diego's Taco Shop Poets
Produced and Directed by Paul Espinosa
Museum of Photographic Arts
Balboa Park
Thursday, September 23, 2004
Program begins promptly at 6:00 pm
Limited Seating - Free Admission
Special Guests include Featured Artists:
Adrian Arancibia, Miguel Angel Soria,
Adolfo Guzman Lopez of the Taco Shop Poets
David Avalos, Evelyn Diaz Cruz
and Paul Espinosa
Q & A with Artists and Producer after Screening
Screening features three segments:
In San Diego, Producer/Director Paul Espinosa captures the Taco Shop Poets
as they take their art to the people. In San Antonio, Producer/Director Hector Galan explores the world of Chicano theatre profiling Carpa Garcia.
In San Francisco, we journey with Producer/Director Gustavo Vazquez into the space of performance art with Guillermo Gomez-Peña.
Visiones: Latino Art and Culture is a landmark PBS television series that features the rich cultural and artistic expressions of Latinos in the United States
In San Diego, Visiones begins airing on KPBS:
Sunday October 31, 2004 @ 2:30 pm
Visiones featuring The Taco Shop Poets airs on KPBS:
Wednesday November 17, 2004 @ 10:30 pm
Sunday November 28, 2004 @ 2:30 pm
Screening is co-sponsored by Media Arts Center San Diego, the Taco Shop Poets, Voz Alta, the Museum of Photographic Arts, Espinosa Productions and Chicano Perk.
Visiones is a co-production of Galán Inc. and the National Association of Latino Arts & Culture (NALAC) and is presented by the Independent Television Service (ITVS) with Latino Public Broadcasting (LPB) as co-presenter. Funding for Visiones was also provided by the Corporation for Public Broadcasting, the National Endowment for the Arts, the Ford Foundation, the Rockefeller Foundation, the Houston Endowment and the Texas Commission on the Arts. Executive Producer Hector Galan. For ITVS, Executive Producer Sally Jo Fifer


--THIS IS FOR EXTRA-CREDIT
--THIS IS NOT A REQUIREMENT FOR THE CLASS
--THIS WILL NOT WASTE YOUR TIME
--THIS IS totally FREE
MOPA
1649 El Prado
San Diego, CA 92101
619-238-7559 (Phone)
619-238-8777 (Fax)
(located in the Casa De Balboa building, east of the main traffic circle and
central fountain) Directions: From Interstate 5 and 8 intersection: go
southbound on I-5, take the 10th Ave. exit; Turn left on A St. and left again
on Park Blvd. Follow the signs to Balboa Park. Parking is available throughout
the Balboa Park.
--------------
What's the extra-credit prompt? Well, as I told you in class last MONDAY, the
sinematic/cinematic body named SCENE FROM THE MOVIE GIANT is a literary work,
a series of poems, inspired by an encounter with a movie--A poet literally
goes mad/goes artistic as a result of a run-in with a Rock Hudson/Elizabeth
Taylor extravaganza entitled GIANT (it stars James Dean as well!).
In any event, our screening of the TACO SHOP POET film here at MOPA can be
read as a cinematic narcotic antidote to the processes that brought about
GIANT/SCENE FROM THE MOVIE GIANT. Your extra-credit assignment--to be
completed and turned in typed, double-spaced, and spicy title, on Wednesday,
Sept 29, 2004 IN CLASS--would be to find a way to compare Villanueva's book of
poems to the work you see on the screen at MOPA.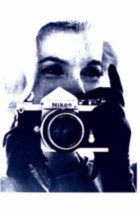 key literary terms
genre
catachresis: \Cat`a*chre"sis\, n. [L. fr. Gr. ? misuse, fr. ? to misuse; kata` against + ? to use.] (Rhet.) A figure by which one word is wrongly put for another, or by which a word is wrested from its true signification; as, ``To take arms against a sea of troubles''. --Shak. ``Her voice was but the shadow of a sound.'' --Young.
motif
satire
the grotesque
allusion
dialectic
nation/narration
hegemony
analysis
sadism
masochism
semiotics
intertextuality
deconstruction
synecdoche - n.- A figure of speech in which a part is used for the whole (as hand for sailor), the whole for a part (as the law for police officer), the specific for the general (as cutthroat for assassin), the general for the specific (as thief for pickpocket), or the material for the thing made from it (as steel for sword).
impotent - adj.- Lacking in power, as to act; helpless.
other - n.- that being, an entity or group-entity which is always treated as an object, assuming oneself or "those like oneself" as the subject. In making such a universal assignment of object status, a group such as slaves, women, psychiatric patients, workers, foreigners, or debtors can be assigned some subordinate status by use of language. The master, man, clinician, employer, citizen, creditor, respectively, can legally (using force) assume some power for the other, and speak for them.

expired LIT event
Christopher Buckley Reading
Date November 03, 2004 07:00 PM to 08:00 PM Pacific Time
Description Writer Christopher Buckley will present a reading as part of the Fall 2004 Hugh C. Hyde Living Writers Series on Wednesday, November 3, at 7:00 p.m. in Room 2203 of the San Diego State University Library, 5500 Campanile Drive. The event is free and open to all.
A native of California, Buckley is a professor and chair of the creative writing department at the University of California, Riverside. He has published more than 11 books of poetry, including "Last Rites," "Blossoms & Bones: On the Life and Work of Georgia O'Keefe," "Dark Matter," and his latest, "Star Apocrypha." He has published creative nonfiction in "Crazyhorse," "Santa Barbara Magazine," and "Hubbub," and wrote a creative nonfiction book titled "Cruising State: Growing Up in Southern California." His work has appeared in numerous journals, and he was the poetry editor for The Pushcart Prize for 1991-92.
The Hugh C. Hyde Living Writers Series is sponsored by the SDSU Department of English and Comparative Literature through an endowment from San Diego writer Hugh C. Hyde.
For more information, please call (619) 594-5318.