office hours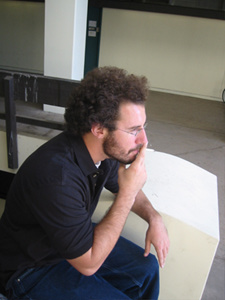 Mike High
Office hours: Fridays 1to 2 in AH 4222
email: mhigh@rohan.sdsu.edu
Mike High is a San Diego native now in his 3rd year of the MFA Creative Writing Poetry program at SDSU. A recluse, who hates television and pop-music, he spends most of his time haunting the library and sleeping in there. In addition to TAing 220, he is also teaching RWS100 The Rhetoric of Written Argument this semester. Occasionally, Mike roams the campus handing out Pro-Israel flyers and can be seen at various rally's growling like a trapped animal. His world travels have taken him from the Holy Land to the most unholy of clubs and back alleys, and there are few people better experienced with Sin and Cinema.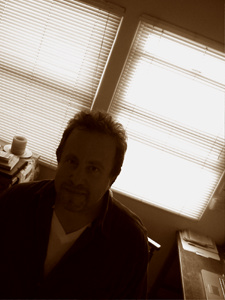 Leon Lanzbom
Office hours: Mondays and Wednesdays 10 to 11; Fridays 10 to 12 in AH 4116
email: llanzbom@excite.com
Having once worked as a spa-boy at the Irvington Hotel in Lakewood, New Jersey, Lanzbom got into a yelling fight with the masseur after Lanzbom refused to towel down the 70 year old men. The masseur flung a chair at him, but Lanzbom ducked the four-legged missile just in time. The thing could have knocked out his eye. Lanzbom was the captain of the male synchronized swimming team back in Lakewood High School. He was first to come up with the theory of relativity before that godamned Einstein stole it from him and got all the glory. He ghostwrote Hamlet. His favorite holidays are Yom Kippur and Mystery Pirate Day. He was All-American Captain of the Toastmasters. He never misses an episode of Judge Judy. He thinks he's a native Texan like his hero Dr. Phil. He knows a lot of people who know people so watch your ass. Don't scare easy? Look here for updated dispatches on everything Lanzbom!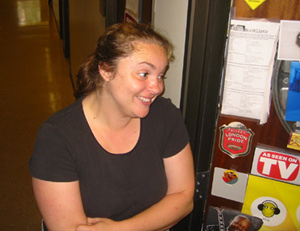 Tawnya Richards
Office Hours: 10:30 to 11:30 Thursdays in AH 4222
email: tawnyarichards@hotmail.com
Tawnya Richards transferred from Grossmont Community College in '99 and earned her BA in English at SDSU in '02. Tawnya continued at State for grad school, and she will complete her MA in English this year. She is also obtaining an ESL certificate through the dept. of Linguistics. She's worked in RWS and EOP for several semesters and knows her way around this campus a little too well. She came into the English MA program specializing in Medieval British Lit., but her literary interests vary widely. She labored through two years of Latin here at SDSU, the first year under the direction of Dr. E.N. Genovese. Though she focuses on older works in her current program, her tastes swing from Cather to Kafka and a great deal in between, thanks in no small part to the crazy upper division Comp. Lit. class she took from Professor Nericcio himself.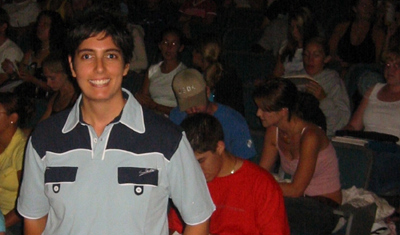 Leah Sneider
Office Hours: 2 to 4pm Mondays in AH 4116
email: sneider@rohan.sdsu.edu
Leah Sneider is a Graduate student passionately exploring Native American literature and in the deep midst of writing her thesis on Native authors Leslie Marmon Silko and Sherman Alexie. Originally sprouted from Ohio, Leah prefers to pretend that she is from Ann Arbor, Michigan where she acquired her undergraduate degree in literature (and a self-defined "minor" in film) from the University of Michigan. Leah left Michigan in 1998 to pursue a career in publishing in San Francisco but instead found herself learning and practicing graphic design for three years at a large public relations agency. She quickly realized that corporate America was not the place for her soft heart and hard head. She decided to return to her first love of literature with hopes of teaching the glory that is the written word. However, she still likes to analyze visual art and sniff out the occasional paper sample. When not glued to a book or typing insanely at the computer, Leah can be heard banging away on her drums pretending she is a rock star in front of thousands of adoring fans.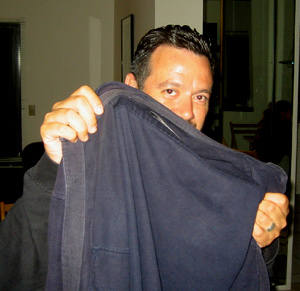 Bill Nericcio
Office hours:Tuesdays 2 to 4; Mondays 1 to 2:15 in AH 4117
email: memo@sdsu.edu
Reliable dispatches from West Coast spies suggest that Dr. William A. Nericcio is an Associate Professor of English and Comparative Literature at San Diego State University. Other local operatives confirm that he practices there using various academic disguises; these include: American Lit scholar, Latin Americanist, Chicana/Chicano Studies devotee/vato, wanna-be Film Studies Guru, Cultural Studies maven and devoited Tejano acolyte of Deconstruction--though one shady nark contends these academic interests are only a cover for his true obsessions:Man Ray, movies, Bill Elder, Remedios Varo, Jacques Derrida, Rosario Castellanos, and Meret Oppenheim. Before joining the Aztecs at SDSU, Nericcio held earlier postings at The University of Connecticut, his first and most infamous gig, and at Cornell University, where, working with taskmaster mentors (Carlos Fuentes, Dominic LaCapra, Enrico Mario Santí, Gayatri Spivak and Henry Louis Gates), he completed his doctoral degree in Comparative Literature with his dissertation The Politics of Solitude: Alienation in the Literatures of the Americas. more here