spring semester san diego state university 1996
English 519: American Ethnic Literature
Seductive Mannequins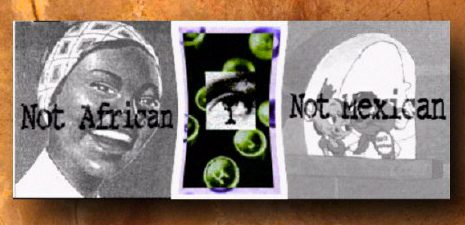 Critiquing the Dynamics of Stereotypes in 20th Century U.S. 'Textual Culture'
If we think of stereotypes as a species of puppet or mannequin, who then are their authors, their agents, their puppeteers? Extending this allegorical premise, who builds and finances the theater within which these puppets 'play'? And why are we such a captive, supportive audience?
Shifting gears now, leaving the allegorical world and entering the so-called real world of this classroom, where does the word "ethnic" in the catalogue title of this class come from? We hear it. We use it. But where was it crafted and to what end? What is the history of the word?
Because really: do any of us know what we mean when we say "Ethnic"? How about "American"? or, even, "Fiction"? Could it be that critical inquiry into the murky origins of these oft-used, little understood designations will help us to better think through ethnic literature of the United States? Is there a literature anywhere that is not quote/unquote "ethnic."
These questions and others will drive our whirlwind three-week adventure. Yes, there is a significant amount of reading. No, your eyes will not revolt; your wallet, however, is another story--please make sure you are ready to work through the challenge this short-semester project constitutes.
In short, brace yourself. Our working collective will attempt to make our significant investment of time and capital all worth while. But please remember: a class is only as good as the students that make it up (the professor, too, has to keep up her or his end of things).
Returning to the allegorical vein of the opening paragraph, imagine our class as a kind of advanced-vertebrate animal. Next, picture yourself as an essential body organ (your pick!) in this animal, an organ vital to the survival and growth of the organism.
Missing a summer session class is like missing two to three classes during the regular school term. Return now to the image of our animal, cutting class is sort of like the liver of our creature deciding to take a week-long vacation. Needless to say, the beast would perish. Our class suffers similarly when your decide to play 'slacker.' What I am trying to avoid saying and must say anyway is that I will have to be rather severe and ask that you miss no more than one or two class periods. Of course, having less than two absences strengthens the possibility of receiving an "A" level grade. If you miss more than two sessions, I will strongly suggest that you withdraw from the class.
Hold on to your hats and eat lots of carrots--we will be reading and writing with abandon. I look forward to working with you.
PS: One last question: How does the interpretation of literature, film and popular culture shift if we think of it less as a "represenation of reality" or "mirror of culture" and more a series of calculated masques, a series of seductive mannequins.
Class Menu
Monday
Tuesday
Wednesday
Thursday
Friday
July 31

Deconstructing Ethnicity. In-class readings from Ralph Ellison, Invisible Man. Screen classic 20th centry examples of racial 'flavors' in animated films.

August 1

Begin reading and discussing Ralph Ellison's Invisible Man--read to page 195. How does Ellison re-invent the notion of "invisibility."

August 2

Continue reading Ralph Ellison's Invisible Man, pp. 196-461. In class essay assignment.

August 3

For the first part of class, finish reading Ellison's novel. In the second hour we will discuss Chester Himes, A Case of Rape so please finish reading it for today. How do Ellison's and Himes projects differ?

August 4

Lecture & screening--Douglas Sirk, Imitation of Life. Begin reading Toni Morrison's

The Bluest Eye pp. 1-93. Why can Morrison's book be read as a meditation on race and the mass media? Receive take-home short essay assignment.

August 7

Over the weekend finish reading Toni Morrison's The Bluest Eye. Short essay assignment also due today.

August 8

Begin reading Jessica Hagedorn's Dogeaters pp. 1-152. How do the Philippines figure in the popular imagination of California?

August 9

Finish reading Jessica Hagedorn's Dogeaters; also read John Fante's The Road to Los Angleles pp. 1-54. Contrast Fante and Hagedorn's fiction styles.

August 10

Finish reading John Fante's The Road to Los Angeles. Fante is an Italian-American writer. How does this figure in his work?

August 11

Read Art Spiegelman'sMaus II. How does the form Spiegelman uses mirror the theme(s) of his Jewish-American narrative project? Receive 2nd short essay take-home project.

August 14

Read Black Elk's Black Elk Speaks. How does this book "jive" with other works we've encountered this term?

August 15

Screen Orson Welles's Touch of Evil(1958). Read Arturo Islas's

The Rain God pp.1-110.

August 16

Listen to and carefully read the lyrics to Los Lobos's La pistola y el corazón; Finish reading Arturo Islas, The Rain God as you listen. What are the thematic overlaps and conflicts between these two projects.

August 17

Re-listen to Los Lobos's La pistola y el corazón while reading Gilbert Hernandez's Tears From Heaven. Hernandez would seem to overlap nicely with Spiegelman? Is this the only comparison which can be drawn?

August 18

Listen to Sandra Cisneros's collection of poetry, Loose Woman. After the break we will have our short final exercise.
Required Texts Available at Aztec Shops
Spoken Word
Sandra Cisneros Loose Woman (Random House)
Fiction & Memoir
Ralph Ellison Invisible Man (Vintage)
Chester Himes A Case of Rape (Carroll & Graf)
Toni Morrison The Bluest Eye (Plume)
John Fante The Road to Los Angeles (Black Sparrow)
Arturo Islas The Rain God (Avon)
Black Elk Black Elk Speaks (Bison)
Graphic Narrative
Gilbert Hernandez Tears From Heaven (Fantagraphics)
Art Spiegelman Maus II (Pantheon)
Required Texts, Distributed and Paid for IN Class
Fiction
Jessica Hagedorn Dogeaters (Pandora)
Required Texts Available after August 1 at Off the Record, 6130 El Cajon Boulevard (265-0507)
Los Lobos La pistola y el corazón (Warner Records)
Required Texts, Free, Screened in Class
Douglas Sirk Imitation of Life (1959 Universal)
Orson Welles Touch of Evil (1958 Universal)

Class Contract
One 40% Attendance, In-class Challenges, Class Participation
Two 35% Short Essay (2-3 pages)
Three 25% Final Thinking Challenge Exercise
Office Hours
My Office Hours are from 1 to 2pm on Monday, Tuesday and Wednesdays in the Adams Humanities Building, room 4117. If these hours are not convenient do not hesitate to call &594-1524 to schedule an appointment or discuss class issues by phone.

William Anthony Nericcio
Director, The Honors Program in English and Comparative Literature and
Associate Professor of English and Comparative Literature
The Department of English and Comparative Literature