the obscene machine
gender, ethnicity, and visual

culture

---
Spring 2007 | sdsu | eyegiene.sdsu.edu | professor w. nericcio | e493
Wednesdays from 4 to 6:40 in SS 1401 | memo@sdsu.edu | 619.594.1524
info on CFA possible strike this semester

---
---
day to day menu



wednesday 24, January 2007

---
the afternoon unfolded eventfully; the class found itself trapped in an unspeakably ugly classroom with two projection screens; the course was described by the professor; various web-pages were screened; the professor documented the first set of readings for the following week--his own book, the cad! lastly, the class screened a movie of a giant puppet girl; a discussion ensued where topics aesthetic and salacious, puerile and dynamic were addressed.

wednesday 31, January 2007

---
our classroom has been moved to the posh digs of west commons 220, our imagination starship. today, in class, we will thrill to the semiotic bordered delights of orson welles's touch of evil (1958). you will enter the classroom having read both of your blogs, having left a comment (critical, brief, and/or curious) on ONE of our blogs, AND you will have read up to page 80 in

Tex[t]-Mex

. (or only to page 38, if you really must be surprised by Welles's cinemadness!)


wednesday 7, February 2007

---
Read the first half of Edwardo Galeano's CENTURY OF THE WIND; also, read the SPEEDY GONZALES and TOUCH OF EVIL chapters in TEX[T]MEX. In-class discussion on led by TA Mark Young and his assistant interns: Rachelle Taylor, Nick Henderson, and Brook Barman.
wednesday 14,
February 2007
---
We begin today's class with an in-class imagination challenge--some people call it a quiz, and, i guess, in a way, you might think of it as a quiz, but it is, in some ways, more than that. Also, today, the expectation is that you have walked into the class having completed your reading of Galeano's CENTURY OF THE WIND. Oh, and of course, you have carefully read and reviewed the introduction, Speedy Gonzales, and Touch of Evil chapters in [TEXTMEX].



wednesday 21,
February 2007
---
As you walk into our starship-like seminar room in the West Commons, you sigh with relief, knowing that you have carefully prepared for today's screening of GILDA (1946) starring Rita Hayworth (aka Margarita Carmen Dolores Cansino) and Glenn Ford and directed by Charles Vidor. Because you listen carefully to directions, you have also completed reading the chapter on Rita Hayworth in TEX[T]-MEX--you may have even used a dictionary when reading the chapter, keeping in mind that the author used two printed dictionaries and one on-line dictionary when creating the beast. While a quiz today is unlikely, that is NOT to say that some written lovely authored by you might be in store. In addition to the Rita chapter, you have started to read the magnum opus that is Humberto Eco's THE MYSTERIOUS FLAME OF QUEEN LOANNA in preparation for our 28 February class.

wednesday 28,
February 2007

---
Eyes winded, brain fatigued (but delighted by the semiotic and semantically adept mind of Humberto Eco), you wander into our seminar room having completed THE MYSTERIOUS FLAME OF QUEEN LOANA; in class, we will wrap up our discussions of Charles Vidor's GILDA while also pursuing nuanced and lively findings with regard to Eco's fiction.


wednesday, march 7, 2007

---
Walk into our state of the art seminar room having read the first 141 pages of cristina rivera-garza's NO ONE WILL SEE ME CRY. As you read, do be sure to try to let the book get under your skin, weave itself into your eyes--like any novel. But consider, as well, as you read that rivera-garza's novel may be seen as a critical meditation on the relationship between photography and being, the semiotic and the ontological!!!! Also, see if you can apply anything you learn about "seeing" photographs from a novel to actual photographs by Flor Garduño--another required reading/seeing text for the semester.


wednesday, march 14, 2007

---
No seminar

TODAY

in WC 220--use the time you have this week to complete your readings of Eco, Nericcio, and Rivera-Garza.


wednesday, march 21, 2007
---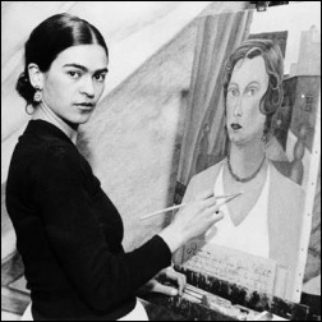 the first part of class we will conclude our discussion of NO ONE WILL SEE ME CRY; after that?

it's frida kahlo week

! read/scan/see all of her diary in preparation for this week's seminar; in addition, bring your frida kahlo and diego rivera stickers to class in preparation for an in-seminar writing adventure. as you read in her diary (nosy intellect that you are!), see if you can make connections between the kahlo/rivera's works pictured in your decals and moments, flashes, scenes, dreams, nightmares figured in the diary! The Frida Kahlo/Gilbert Hernandez XicanOsmosis chapter of Tex[t]-Mex addresses key elements from Kahlo's biography--you'll want to carefully read this to supplement your preparation.



In addition! Today is VERY important as you will receive your

big final paper/imagination

challenge assignment prompt sheet! This essay, 4 to 7 pages in length, will be due April 23, 2007 under my door at noon in A&L 273.

wednesday, march 28, 2007

---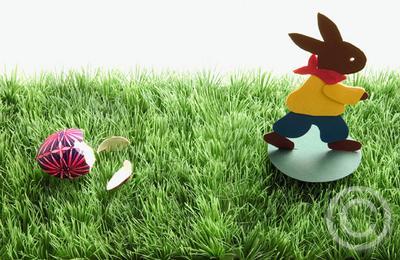 Spring break! Take it easy!!!! Have a blast!


wednesday, april 4, 2007

---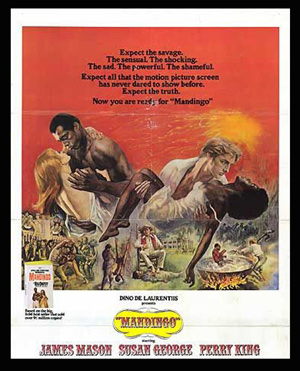 You return from your Spring adventures hopefully tanned and relaxed--hangovers and dodged STDs now vague memories fading away. You enter the room ready, willing and eager to have your eyes devour Richard Fleischer's over-the-top "masterpiece" MANDINGO (1975), starring James Mason, Susan George, and a nude Perry King. In preparation for this class, please read these essays available free via me via Project Muse: Keith M. Harris's "Visual Culture and the Black Masculine" and Celine Parreñas Shimizu's "Master-Slave Sex Acts." As opposed to what we did with TOUCH OF EVIL, GILDA, and TEX[T]-MEX, I do want you to read the articles BEFORE you see the movie so that you can evaluate Harris's and Parreñas Shimizu's arguments.


wednesday, april 11, 2007

---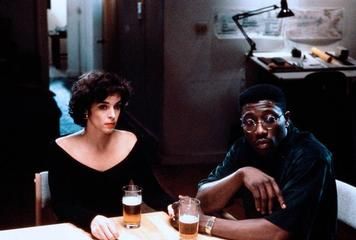 We continue our analysis of Africans and African-Americans in American mass culture with our screening of Spike Lee's JUNGLE FEVER. If you want to get ahead on your reading for next week, please read the first half of John Steinbeck's TORTILLA FLAT.



wednesday, april 18, 2007

---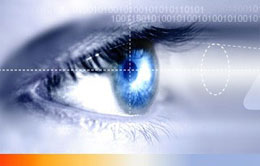 Finish Steinbeck's Tortilla Flat novel. ALSO!!!! Your Big scary paper is due next Monday,

April 23, 2007 at noon under my door in Arts and Letters 273!!!! see March 21, 2007 entry above!!!


As such, THERE IS NO CLASS SEMINAR MEETING IN WC220 today--HOWEVER, you are expected to attend tomorrow's panel on Steinbeck in WC220, that occurs tomorrow,

Thursday, April 19

from

4 to 6pm

!!!! Only those of you with a class at the same time are excused from this gala event!


wednesday, april 25, 2007

---
Our last film of the year deals with the figuration of the Asian body/culture in Peter Greenaway's THE PILLOW BOOK. Do be warned this film is quite graphic as Greenaway's cinematic/sinematic eye neither flinches nor looks away. In preparation for this film, do please read the essay by Paula Willoquet-Maricondi. Having trouble accessing the article? Log in first here! NOTE--all blog entries must be submitted in hard copy TODAY in class.



wednesday, may 2, 2007

big-secret big, scary final challenge in class today!
---