London Eyes

A Travel Diary
May -July 2005

A great group shot on UNITED 934 pre-fatigue and jet-lag

Megan reveals her love of flying!

---

---

the trip over from the US

Ariel smiles as Ashley gathers her goods menacing Jennifer's shielded eyes

---

---

The UKgang arrives at Hype Park Gate, home sweet home!

Jennifer adopts an aloof urban pose as John uses keys for hand-puppet drama!

---

---


The front yard? HYDE PARK!

---

---



reception for the UKgang! Gloucester Arms--Jorge reveals a gallant streak.

---

---


caught in the act! Laurel tries to hide the evidence as Jennifer looks on;
Tricia, in the background eyes Jennifer's hieroglyphic gestures.

SDSU ALUMNIS

ALUMNIS of the SDSU Masters Program in Literature, Professors Chip Phillips (Rogue College by way of a Clairemont Graduate University Phd) and Jason Solinger (The Citadel by way of a Brown University Phd enjoy a brew at the Olde White Bear Pub in Hampstead.
British Life and Culture class heats up with the London Weather and our trip to Westminster Abbey
Leoni and Victoria valiantly lead the way as Sara guards her lips with SPF power!


Victoria and Leoni guide us past the Thames and the London eye


Laurel, Lauren, tricia, Sarah, Ashley, Laura, and, kneeling, Melissa, Katy, Sara and Jennifer pose in front of Buckingham Palace before their HIGH TEA with Prince William.

Strike that, before getting on their tour bus!

The entire gang between the Tower of London and Tower Bridge.

Laurel does her Greta Garbo imitation.

Anthropology 493 kicks off with a screening of DERRIDA

Jacques Derrida's ghost looks on as the gang poses for a quick photo on the steps of the Institut Français in Kensington.
Nick Hutchison (ABOUT A BOY, MacGyver) leads a wonderful tour of shakespeare's GLOBE Theatre.



Shakespearean actresses in the making--Laurel, Melissa and Lauren ham it up with Nick H.

Frida Kahlo Cinesnack Outing for Anth 493




A pose with two new friends on the SOUTH BANK before our Anth Surrealist film event at the TATE Modern. Megan and Jorge are our new friends's favorites!

The view from the TATE MODERN across to St. Paul's Cathedral.


Professor Nericcio visits a memorial to a beloved spiritual mentor--the Marx tomb in Highgate cemetary.

Strike a pose--Mike and Jorge in front of Parliament and Big Ben.

Wonders in the sky at the Imperial War Museum. (BLC)


More wonders on the bLC tour.


John Makey and a solemn tour of the Imperial War Museum.

SDSU UKstudents Mike, Jorge, Sara, Ariel, Lauren and Katy sample Britsh College life at the Imperial College student center, utterly unaware of the danger that lurks directly to their left (our right).

same night


Candid shot of John Makey lecturing us on Bricklane.

Katy spies a lost £, Ashley wakes up, and Sarah and Melissa prepare to cross-examine Makey!

More Spitalfields and Bricklane with Megan, Tricia, Laura, Sarah, Katy and Melissa in the 10Bells Pub--the site where Jack the Ripper's last victim frequented!

Makey again with SDSU and FIE Open Enrollement undergrads on the British Museum tour.

Jen, Queen Elizabeth II, Sara and Ashley at the amazing Warhol/Hockney exhibit at the Belgrave Gallery.


Katy, Melissa, Tricia, Laurel, Megan, Lauren, Jennifer and Jessica at the CONSEQUENCES OF LOVE screening at the chic CHELSEA CINEMA.

Mike and Jorge at the Chelsea for CONSEQUENCES.

The Foyles Bookstore tour begins with a stop by a vendor of untoward literary treasure! Katy turns her head in shame!

More Foyles bookstore fun as the gang gives vent to raging aesthetic curiosity; note various degrees of over- and under-acting.

Luck strikes as a visit to the National Gallery yields a free lecture on Holbein's Ambassdors--a centerpiece
of Berger's WAYS OF SEEING.

St. Martins in the Field for a noonday concert! Megan ignores the camera as Laura channels the 60s.


Tardy music aficionados at St. Martins: Jen, Ashley, Mike, Jorge and Sara.


Movie night at the SCOOP an outdoor theatre on the South Bank--here Sara, Sarah, Katon, Laura,
Tricia, Melissa, Megan, and Katy stop for cool picture at dusk on the Tower Bridge.

Here's looking at you, kids! In front of The Tower of London just before our flick at the Scoop--Bogie, right, waits
patiently for our arrival.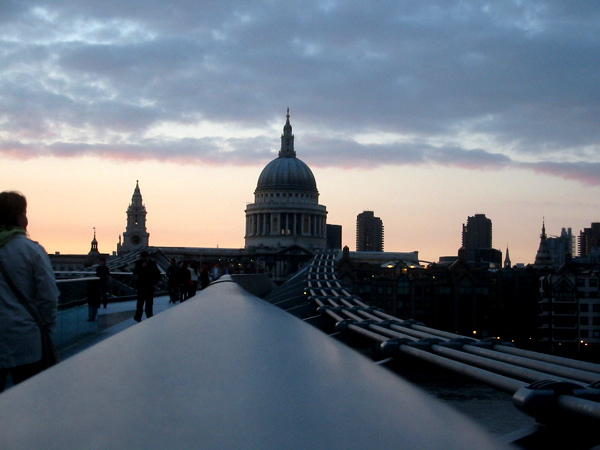 Walking back from a tour of the Tate Modern, St. Paul's from the Millennium Bridge--London's South Bank is a jewel of the night.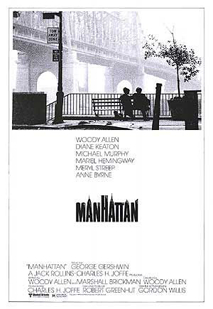 Sara, Jen, Jessida, Ashley and Laurel pose after our hilarious screening of Woody Allen's
Manhattan (1979) and Melinda and Melinda (2005) at the RIVERSIDE STUDIOS, West London.

(next 3 photos) Sir Robin Prior leads the UKgang on a tour of the Darwin Galleries at the Museum of Natural History.

Ashley tries to ignore attacking pigeons whist Robin Prior waxes eloquent on Darwin, Evolution and Aesthetics;
Mike either is yelling at a would -be feathered attacker or throwing himself into an ill-timed, full-body yawn.

Face to Face, a moving photo-exhibition at the Museum of Natural History


Jen, Ashley, Laurel, Laura, Jorge, Megan, Tricia, Mike, Melissa, Jessica and, sitting, Katy, Sara and Sarah
wind their way through the amazing Freud Museum; detail (right) from a print by Penny Siopis on SHAME
on exhibit with Freud's death couch at the museum.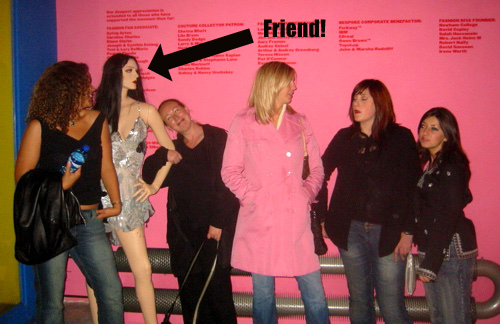 Ashley (striking a pose), friend, Sarah (solicitous of our new pal's affection), Megan (styling),
Jessica (closing her eyes to it all), and Laurel (wistful), after a smashing good panel of speakers on
Women and Body Image at the London Museum of Fashion and Textiles.

Just before our tour of the Tate Modern's collection of Naked, Nude, and "degenerate" Art, Asheley, Mike, Laura, Jorge,
Sara, Megan, Jen, Jessica and Laurel brave the winds on Foster's Millennium bridge.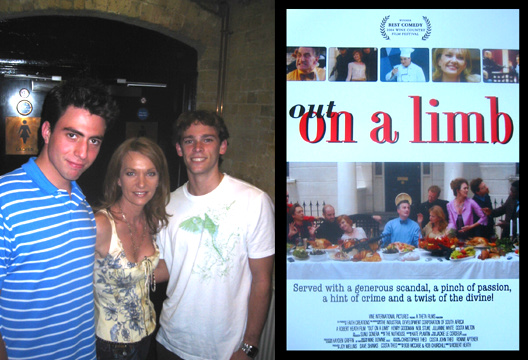 Jorge and Mike hang out with the vivacious and talented Juianne White at the OUT ON A LIMB
film premier at the Everyman Cinema Club, Hampstead!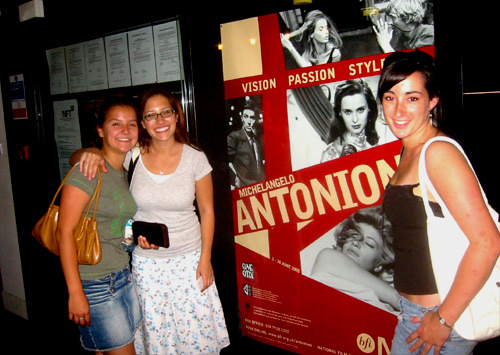 Sara, Jen H. and Jen K at the Antonioni/La signora senza camelie (The Lady without Camellias)
screening at the National Film Theatre.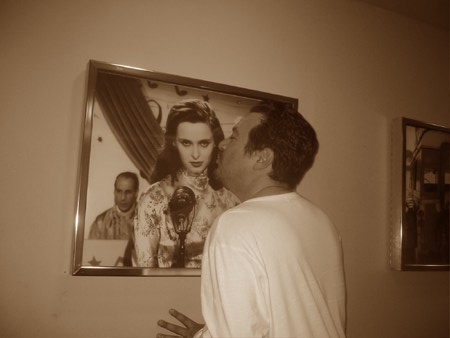 Professor Nericcio, unhinged, reveals his love for Antonioni star
Lucia Bosé, the start of La Signora Senza Camelie at the NFT.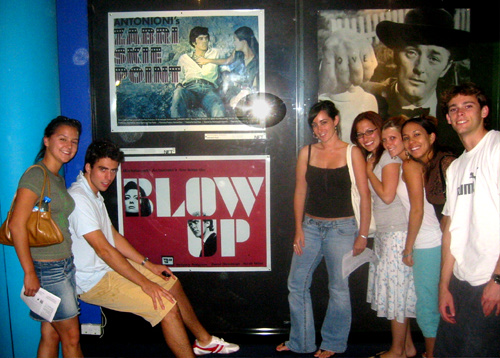 Sara, Jorge, Jen K, Jen H, Katy, Melissa and Mike emerge unscathed,
confused, delighted and frustrated from a screening of Antonioni's BLOW-UP.
Robert Mitchum shows us some love as well.

Donald Rumbelow, guide on the infamous JACK THE RIPPER tour.

The 493 cinephiles after surviving the RIPPER tour! Jen, Jen, Laura, Tricia, Laurel (stabbing), Ashley, Mike, Lauren, Megan, Jessica, and Melissa, standing , from left to right.
Sara, Jorge (Zoolandering!), and Katy, kneeling.


Nick Hutchison (Hugh Grant's mate) at the 10 Bells Pub for the Film and Acting flaneurtrek.

The SDSU gang expands with the addition of Lila, Sophia and Lorenzo Nericcio, pictured here at Kings Cross/ St. Pancras station at a site made famous by Harry Potter, before our trip to Cambridge University.

Dominic Janes leads the tour to Cambridge. Megan, fearing bedbugs, in deep thought!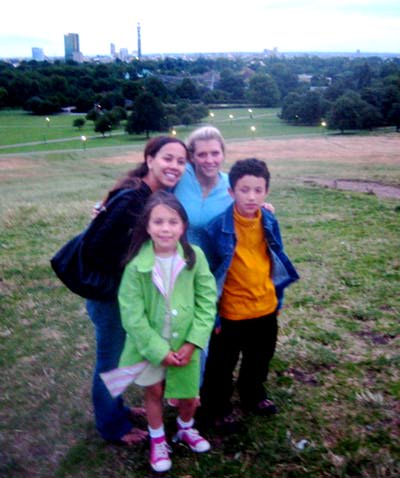 Parting shots! The final flaneurtrek for sunset at Primrose Hill. Sophia Alessandra Nericcio and Lorenzo Antonio Nericcio, foreground; Melissa deLeon and Katy Jackson, behind them.