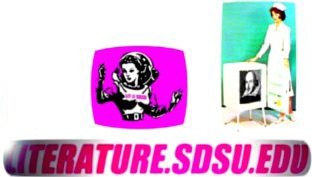 also, English 790, the English MA Exam Preparation Seminar
The G. Pitt and Virginia Warner Lecture Series, Spring 2003
A Master of Arts and Letters Exam Preparation Class for Graduate Students in the Department of English and Comparative Literature, SDSU, and a Lecture Series, Open to the Campus Community and the Public
Required Works with LECTURING SPEAKERS and Editions
nota bene: graduate students enrolled in the class must enter the seminar room having carefully READ the entire selection for that day.
Professor Laurel Amtower
(R) BORROFF -- SIR GAWAIN & GREEN KNIGHT WITH PATIENCE
(R) CHAUCER -- CANTERBURY TALES (HIEATT TR) (BANTAM)
Professor Priti Joshi
(R) CONRAD -- HEART OF DARKNESS (OXFORD WORLD CLASSICS
Professor William Nericcio
(R) FUENTES -- AURA (FARRAR)
Professor Carey Wall
"Woman Emerges from the Margins: Charismatic Hester Evokes New Life from the
New World"
(R) HAWTHORNE -- SCARLET LETTER (PENGUIN)
Professor Mary Galbraith
(R) JOYCE -- PORTRAIT OF THE ARTIST AS A YOUNG MAN
March 24, 2003
Professor June Cummins
(R) WOOLF -- TO THE LIGHTHOUSE
Professor Lynda Koolish
(R) MORRISON -- BLUEST EYE (NAL)
Miguel-Angel Soria, Head Librarian
(R) RIVERA -- Y NO SE LO TRAGO LA TIERRA/ & EARTH DID
Professor Irene Lara
(R) SHAKESPEARE -- TEMPEST (WASHINGTON SQUARE PRESS)
Professor Gerald Butler
(R) SWIFT -- GULLIVER'S TRAVELS (CRITICAL ED)
Professor Jerry Griswold
(R) TWAIN -- ADVENTURES OF HUCKLEBERRY FINN : CASE ST
LECTURE SCHEDULE


Unless otherwise noted, ALL lectures begin at 7pm in Adams Humanities 4176
January 27
"What is an MA in English?: An Introduction to the Class, the Logistics of the Exam, and the Plan of the Semester"
William A. Nericcio, course director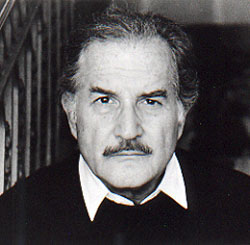 February 3
"Carlos Fuentes's Aura: Image, Text, History and Desire in the Pages of a Modern Mexican Masterpiece"
William A. Nericcio

Biography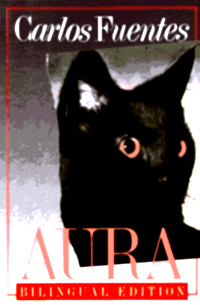 Dr. William A. Nericcio is presently an Associate Professor of English and Comparative Literature at San Diego State University. He has also taught literature, cultural studies and critical theory at The University of Connecticut and at Cornell University where he completed his doctoral degree in Comparative Literature (1989). A native son of Laredo, Texas, with ancestors hailing from Mexico, Sicily and (it is whispered) Great Britain, Nericcio has published articles on Orson Welles as an ethnically cross-dressed Chicano movie director, the chameleon-like nature of Octavio Paz's political thought, and the heady encounter of deconstruction, electrolysis and celebrity in the life of Rita Hayworth. His essay, "Artif[r]acture: Virulent Pictures, Graphic Narrative, and the Ideology of the Visual" appeared in the Mosaic: A Journal for the Interdisciplinary Study of Literature. His primary works, a comparative study of alien-ation in Latin American and Chicana/o Literature, and an illustrated history of Latina/o stereotypes in 20th cen-tury US mass culture, are forthcoming. More here.
February 10
"On Swift's Gulliver's Travels"
Gerald J. Butler

Biography
Dr. Gerald Butler is A. B. California, Berkeley, 1963. With Honors; Phi Beta Kappa; Ph. D. Washington, 1969. He is Professor of English and Comparative Literature, San Diego State University and has taught also as professeur invité, Université Rennes 2, on exchange at the Université d'Orléans (I. U. T. Bourges), 1990-1991 (exchange), and as maître des conferences (invité) at the Université de Nice. He belongs to the British Society for Eighteenth-Century Studies, The Modern Language Association of America,The Voltaire Foundation,The Dickens Society,The D. H. Lawrence Society of North America,The New Canterbury Literary Society (Richard Aldington Society). Butler has published four scholarly books: Fielding's Unruly Novels (Salzburg: Universität Salzburg, Insitüt für Anglistik und Amerikanistik, 1995); Henry Fielding and Lawrence's "Old Adam": A Reading of British Restoration and Eighteenth Century Literature (Lampeter, Wales, and Lewiston, New York: Edwin Mellen Press, 1992); Love and Reading: An Essay in Applied Psychoanalysis (New York: Peter Lang, 1989); "This is Carbon: A Defense of D. H. Lawrence's The Rainbow Against His Admirers (Seattle: Genitron Books, 1986). He is also well-known for his work on the great modern French novelist, Louis-Ferdinand Céline.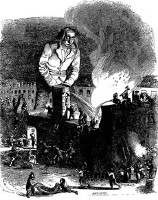 He has also published numerous scholarly articles. Some recent work includes "Fielding's Amelia; Or, Justice Exposed," Crime et châtiment dans les îles britanniques au dix-huitième siècle, RuBriCa: Russko-Britanskaya Cathedra 7, Moscow (2001); "Fanny as Sexual Being: the "Alien Meaning" of Fielding's Joseph Andrews in Mentalities/Mentalités 16.1-2 (2001); "The Real Versus the University Branch of the Culture Industry: the Academic Institutionalization of the Eighteenth-Century British Novel," in Anarcho-Modernism: Toward a New Critical Theory, Vancouver, B. C.: Talonbooks, 2001; "Making Fielding's Novels Speak for Law and Order," reprinted in Ideology and Form in Eighteenth-Century Literature, ed. David H. Richter, Lubbock: Texas Tech University Press, 1999; "Ann Radcliffe's Novels: Peace and War, Sublimity and Maiden Fears," in Guerres et paix: la Grande-Bretagne au xviiie siècle, Tome II, ed. Paul-Gabriel Boucé. Paris: Presses de la Sorbonne Nouvelle, 1998; "Print Eroticism, the 'Canonical' English Novel, and European Enlightenment: An Essay in Criticism," La Grande-Bretagne et l'Europe des Lumières, ed. Serge Soupel (Paris: Presses de la Sorbonne Nouvelle, 1996; "Fielding's Panzaic Voice: Enlightenment as Critique of the Mythical," La Grande-Bretagne et l'Europe des Lumières, ed. Serge Soupel (Paris: Presses de la Sorbonne Nouvelle, 1996); "Sexual Desire and the Ages of Women in Fielding's Joseph Andrews and Tom Jones," Les Ages de la vie en Grande-Bretagne au XVIIIe siècle, ed. Serge Soupel (Paris: Presses de la Sorbonne Nouvelle, 1995); "On the Role of 'Theory' in American Academic Censorship," Revue française d'études américaines 52 (1992). He has given papers on eighteenth-century subjects not only in various French and North American universities, but in Dublin and Oxford as well.
He has published creative work in Hudson Review, Chicago Review, New York Quarterly, West Coast Review, Pacific Review, the Doubleday anthology Aging Quickly Here, and various literary magazines; comments on his poetry are in Josephine Miles, Poetry, Teaching, and Scholarship and in Richard Kostelanetz, Literary Politics in America. He is editor of Recovering Literature: A Journal of Contextualist Criticism, 1972-present. He is currently at work on a study of the relationship of the novel to the Enlightenment, and he is completing a novel of his own.
February 17
"Reading the Middle Ages: The
Canterbury Tales and Sir Gawain and the Green Knight."
Laurel Amtower

BIOGRAPHY:Laurel Amtower is Associate Professor of English at SDSU and specializes in medieval literature. She is the author of "Engaging Words: The Culture of Reading in the Later Middle Ages."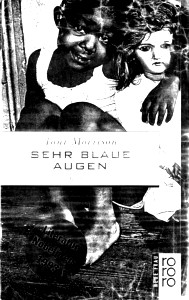 February 24
"The Bluest Eye" TBA
Lynda Koolish

Biography: LYNDA KOOLISH (B. A: University of California, Berkeley, with honors; M.A.: San Francisco State University, with a thesis on James Joyce'sUlysses; interdisciplinary Ph.D.: Stanford University, Modern Thought and Literature, 1981, with a dissertation on American feminist poetry) is a Professor of English and Comparative Literature, San Diego State University. She also currently directs the undergraduate honors program in English, comparative literature, and creative writing. Professor Koolish has taught or lectured at the Goddard Graduate Programs; College of Marin; University of the Pacific; Sonoma State University; California State University, Sacramento; San Francisco State University; University of California, Berkeley; U.C. Berkeley Extension; University of California, Davis; University of California, Santa Cruz; Stanford University, and Kansas University.

Most well known for her work on Toni Morrison (essays published in African American Review and MELUS), she is also the author of African American Writers: Portraits and Visions (University Press of Mississippi, 2001), a collection of sixty photographic portraits of African American writers, with accompanying literary bio-bibliographies, a book that won the 2001 American Library Association award. Donna Seaman, the ALA reviewer, had this to say about Portraits and Visions:

Koolish's elegant black-and-white photographs of African American writers seem empathic, as though the camera channeled more than mere light and shadow to drink in the writers' thoughts and feelings, the hum of their minds and thrum of their bodies. Each studied yet dynamic portrait is accompanied by a brief essay in which Koolish, a professor of literature as well as a photographer, describes with precision and zest the timbre of the writers' voices, the spirit of their work, and the significance of their contribution to the canon. Here's Wanda Coleman standing at a mike poised for action yet arrested in contemplation, one of 12 writers holding their hands to their heads, a thinker's habit. August Wilson and Haki R. Madhubuti smile; Lucille Clifton and Edwidge Danticat are about to. Clarence Major, Albert Murray, Yusef Komunyakaa, Paule Marshall, and Sonia Sanchez are serious, reflective, receptive. Koolish's absorbing portraits, most of recent vintage, some from the 1980s, document 60 writers essential to American letters and, in a very real sense, to a richly imagined life.

She has lectured widely on contemporary African American writers, and has had numerous one woman exhibitions of her photographs of African American writers at such places as the Schomburg Center for Research in Black Culture (the Harlem Branch of the New York Public Library), the San Francisco Public Library, the Salt Lake City Public Library, and the Doreen B. Townsend Center for the Humanities at U.C. Berkeley. Twenty-four of her photographs have been acquired by San Diego State University and are on permanent display in the SDSU Library.

Her work on nineteenth century African American literature is represented by an essay on Iola Leroy in Tricksterism in Turn of the Century American Literature, and among her many essays on American poets is "The Bones of This Body Say, Dance: The Theme of Self-Empowerment in Contemporary Poetry by U.S. Women of Color," included in A Gift of Tongues: Critical Challenges in Contemporary American Poetry. She has also been a contributor to the Oxford Companion to African American Literature, American Literature, Contemporary Literary Criticism, American Book Review, The Women's Review of Books, and Signs: Journal of Women in Culture and Society. A volume of her poetry was published by Ariel Press, and her poems have appeared in several anthologies and literary journals, including Berkeley Poets Cooperative, Mosaic , Epoch , and Yellow Silk..


She is currently at work on a book and exhibition (scheduled to be shown at UCSD in 2005) called "'The Common Woman is as Common as the Best of Bread/ and Will Rise': A Celebration of Three Decades of Feminist Presses, Broadsides and Poets," for which she is curator, collector, and photographer. The exhibition will contain one hundred broadsides, and photographs of each of the poets whose work is represented by the broadsides, as well as histories of the feminist presses which created the broadsides.

March 3
Caliban's Curses and Beyond: (Post)colonialism, Feminism, and The Tempest

Irene Lara

Biography
Irene Lara is an Assistant Professor at San Diego State University's Women's Studies Department. She received her BA in American Studies with a Focus on Race and Ethnicity at Stanford University and will soon receive her Ph.D. in Ethnic Studies at the University of California, Berkeley with a Designated Emphasis in Women, Gender, and Sexuality. At Berkeley, she co-founded the Chicana and Latina Studies Working Group, co-organized the "Oppositional Wetness: Mujeres Living Theory" and "Latinas Coming of Age" conferences, and co-facilitated the "Healing and Spirituality" panel and talking circle for the "Practicing Transgressions: Radical Women in the 21st Century," a conference celebrating the 20th anniversary of the publication of This Bridge Called My Back: Writings By Radical Women of Color. Her essay "Healing Sueños for Academia" appears in this bridge we call home: radical visions for transformation edited by Gloria Anzaldúa and AnaLouise Keating. She has two forthcoming publications: the co-authored "Fiera, Guambra, y Karichina! Transgressing the Borders of Community and Academy" in Chicana/Latina Feminist Pedagogies and Epistemologies of Everyday Life and "Interview of Gloria Anzaldúa." in EntreMundos/InterWords: New Perspectives on Gloria Anzaldúa.
March 10
"An Image of Conrad: Adventure, Empire and Heart of Darkness"
Priti Joshi

Biography: coming soon.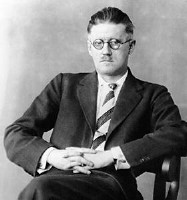 March 17 (St. Patrick's Day)
"Portrait of the Artist as a Little Boy: James Joyce's Portrait of the Artist as a Young Man"
Mary Galbraith

Biography

Mary Galbraith teaches children's literature at SDSU. She concentrates on the representation of childhood self in novels and picture books. In exploration of this topic, she has done close readings of early chapters in Henry James, Charles Dickens, and Charlotte Bronte, and of picture books by Ludwig Bemelmans, Margaret Wise Brown, and Maurice Sendak. She argues that certain outstanding books featuring a fictional child self carry the weight of their creators' own primal experiences, and she (dimly as yet) conceives a complex but mappable relationship between implicit memory and artistic creation.
March 24
"Virginia Woolf, Mrs. Dalloway and the Dynamics of Desire"
June Cummins

Biography

With a Ph.d from Columbia and a home in Chicago and San Diego, the English Department's most famous frequent flyer presently travails in the fields of Children's Literature and British Lit.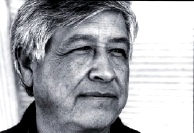 March 31
CESAR CHAVEZ DAY/SPRING BREAK
NO LECTURE
April 7

"Mousetraps in the Epic Theater of William Shakespeare's Hamlet: An Alienation Effect that Offers Insight into What Lies Nearest by Way of Astonishment at What Lies Farthest"

Monika Hubel

Biography
Monica Hubel spent twenty years in the publishing business in Europe before landing on our shores and establishing herself as a West Coast Literati--beginning with a BA from National University and recently completing her MA in English and Comparative Literature from SDSU with a thesis on Joyce. When not composing long, ponderous and enigmatic titles for the Warner Lecture series, Hubel awaits word from Doctoral Degree Programs on both coasts in the field of Comparative Literature and Translation Studies.
April 14

"What You Need to Know About Huck (& Jim & Pap & Judith Loftus) to Pass the MA Exam"
Jerry Griswold

Biography

Sometimes mistaken for Mark Twain, Jerry Griswold has created a new edition and introduction for the Penguin Classics' The Prince and the Pauper and written about Tom Sawyer and Huckleberry Finn in chapters of his Audacious Kids (paperback edition titled The Classic American Children's Story). An occasional contributor to the Los Angeles Times, Senior Fulbright Lecturer for a year at the National University of Ireland in Galway, he teaches American, Irish, and Children's Literature at SDSU. Like the impish Huckleberry Finn, Griswold is an American child of Irish descent.
April 21
"Channeling Tomas Rivera's Y no se lo trago la tierra..."
Miguel-Angel Soria

Biography
A post-movimiento xicano poet, performance artist, elementary school teacher and now, hi-tech Aztec Librarian, Soria's work has been showcased on HBO and Salon.com.
April 28
"Woman Emerges from the Margins: Charismatic Hester Evokes New Life from the New World"
Professor Carey Wall

Biography forthcoming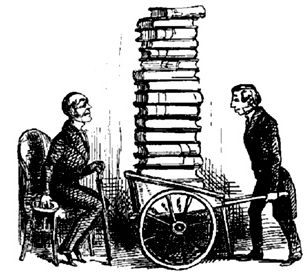 May 3 MA EXAM DAY SATURDAY

8:30am to 10:30am, Question 1

break

11am to 1pm, Question 2

lunch

2pm to 4pm, Question 3
EXAM
Saturday
May 3, 2003
AH 4176
no paper necessary; bluebooks provided by the Department

schedule:

8:30am to 10:30am, Question 1

break

11am to 1pm, Question 2

lunch

2pm to 4pm, Question 3