CLT 594: Art & Literature
W. Nericcio 3:30 to 6:10pm MONDAYS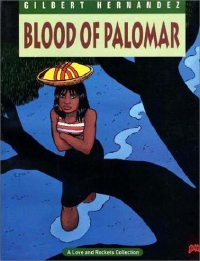 You pop open your official SDSU catalogue for this class and this is what you see:
594. Topics in Literature and the Arts (3)
Prerequisite: Six upper division units in literature or any of the other arts. Comparative study of literature and other arts such as painting, sculpture, architecture, music, dance, and film. May be repeated with new content.
And this is exactly what you're going to get! A mad, hopefully inspired fusion of aesthetic delights from the world of literature, film, oil painting, theatre, and music all filtered through the provocative lens of Jacques Derrida, infant terrible of Continental Philosophy and arguably the most important thinker in late 20th century Western Intellectual History. Our course will begin with Jacques Derrida's Memoirs for the Blind and with DERRIDA a new film about this gallic guru! This twin infusion of French stylings on Cinema, Philosophy, and the Arts will prepare us for the multiculturally-inflected bucket of goodies to follow including: African American diva/scribe Toni Morrison's The Bluest Eye, Latina muse Lorraine Lopez's Soy la Avon Lady and Others Stories, Dan Clowes's LIKE A VELVET GLOVE CAST IN IRON FANTAGRAPHICS,Rene Magritte's paintings, Mexican America's Dickensian-artist, Gilbert Hernandez's Blood of Palomar, and others.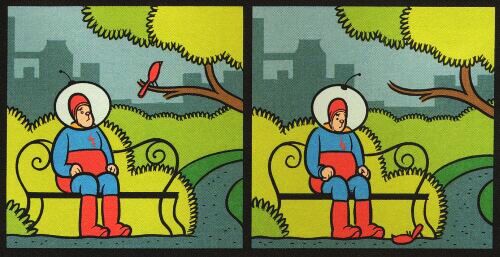 Comparing this unlikely collection of creative forces working in different media and different genres, Libidinal Progeny considers the cunning, sponta-neous and utterly libidinally-charged interaction that characterizes the relationship between aesthetic artifacts made of words and pictures. Note that the term LIBIDO used here is appears more for reasons of accuracy than for mere sensationalistic effect. A focus on novels with a decidedly visual dynamic, screening films with remarkably novelistic 'syntax,' and studying photography enraptured by both words and cinema, fosters the need for our progeny' concept. If you think about the dance of word and image, their distribution and influence upon each other, then issues of "reproduction" reveal themselves as more than base metaphors, and the notion of libido seems totally appropriate for fields like Literature and Art History or Literature and Film Theory, where the objects of their analysis (books and paintings, or, books and film) consort with each other in every way imaginable. While a healthy curiosity in literature, film and art will give you an advantage, there are NO prerequisites for this class and it is open to undergraduates and graduate students in all majors!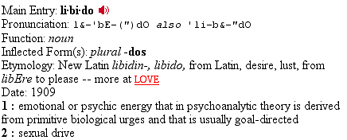 REQUIRED BOOKS
HERNANDEZ BLOOD OF PALOMAR LOVE & ROCKETS 8 $18.95
WARE ACME JOKE BOOK #7 10.95
MORRISON BLUEST EYE NAL $12.95
LAUF CONTEMPORARY ARTIST S BOOKS D.A.P $14.95
CLOWES LIKE A VELVET GLOVE CAST IN IRON FANTAGRAPHICS $19.95
EWING LOVE & DESIRE CHRONICLE $6.98
MAGRITTE MAGRITTE / TORCZYNER ABRAMS $3.98
DERRIDA MEMOIRS OF THE BLIND $37.50 / $27 @ amazon.com
WILDE PICTURE OF DORIAN GRAY KONEMANN $7.95
PAQUET RENE MAGRITTE 1889 ? 1967 $9.99
LOPEZ SOY LA AVON LADY & OTHER STORIES CURBSTONE $15.95

REQUIRED BOOKS To be purchased in class
MAYER, Oliver Joy of the Desolate $8
Riley, Tomas Spoken Word CD $9

REQUIRED FILMS/ SCREENED FOR FREE
GREENAWAYThe Pillow Book
more TBA

REQUIRED FILMS/ SCREENED ON YOUR OWN
DICK/KOFMAN Derrida KEN THEATER
JONZE Adaptation ALL OVER
more TBA

THEATER
Gross Indecency: The 3 Trials of Oscar Wilde
COURSE REQUIREMENTS
15% prepared class attendance and participation
15% in-class writing/quizzes/pop-essays/drawing exercises
30% april scary exam: cumulative to the date of the exam
40% final "paper" project : 12 to 20 pages
20% deducted from any student who moans or complains about the amount of reading, outside film screenings, museum visits, expense of the books, etc; you are forewarned that this class will be expensive, possibly boring, time-consuming and experimental.
OFFICE HOURS
Mondays from 12 to 3, AH 4117; e-mail address: memo@sdsu.edu; phone 619.594.1524.
LIBIDINAL PROGENY ROSTER OF READINGS, EVENTS, DEADLINES, ASSIGNMENTS AND DISTRACTIONS
progeny task ONE
january 27; we meet in storm hall to go over the plan of the class--funny pictures drawn on blackboard as professor glosses continental philosophy, film theory and semiotics.
progeny task TWO
for feb 3, you must enter the room, now BAM 249 having read to page 40 or so in the Memoirs of the Blind book by Jacques Derrida; also you are to have screened DERRIDA directed by Amy Ziering Kofman and Kirby Dick at the KEN; drawn a picture of the ONE scene/image/object/event in the film that sticks in your head from the movie; and, lastly, having read the Derrida book, write a Derrida-inspired reflection on your work of art! in class we also conduct an experiment involving paper, pens, hands and word/image portraits of a select classmate.
progeny task THREE
on february 10 you enter BAM 249 for the last time having finished reading the Derrida book; select two or three words, ideas, concepts that intrigue you and do further research on them for discussion in class [next week!]. In class we will screen Peter Greenaway's The Pillow Book. Consider the links between Kofman/Dick and Greenaway as directors even as you evaluate the links between Greenaway and Derrida as theorists of word and image.

progeny task FOUR
february 17 you arrive in COM 207 having read most if not all of The Picture of Dorian Gray by Oscar Wilde; also, be sure to see at your EARLIEST convenience, the production, "Gross Indecency: The 3 Trials of Oscar Wilde" at the Diversionary Theater in University Heights. Click Oscar Wilde's picture here for details!
progeny task FIVE
february 24 arrives and you enter the room having read Chris Ware's Acme Novelty Library supersize book. we will continue our discussion of derrida, dick & kofman, greenaway, and wilde in class; note! our classroom has changed again for the last time this term! COM 207 except for March 3 when we will be in the campus bookstore for Lorraine López's reading.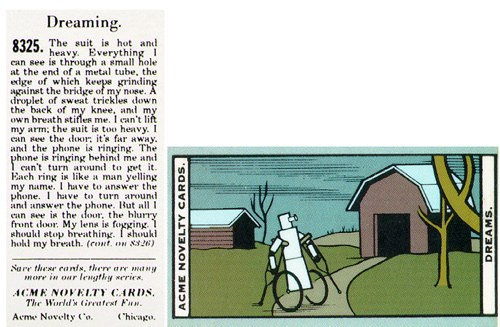 progeny task SIX
march 3 roars its way in like a lion and you walk over to the campus bookstore at 3:30pm for a special guest lecture/presentation by lorraine lópez on her new book SOY LA AVON LADY AND OTHER STORIES from curbstone. read the stories carefully on their own terms as well as in terms of our ongoing interrogation of word and image as libidinally-charged progeny.
progeny task SEVEN
take a breather and catch up as on march 10, your peripatetic word and image prof/would-be guru is away giving lectures in Boston, at UConn and at Brown U.
progeny task EIGHT
enter the rich world of gilbert hernandez's palomar for our class of march 17! also bring your lopez index card questions to class as well as the AVON book.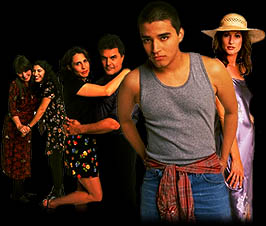 sunday march 23 extra-curricular film screening--open to
all students and their friends, and required of NO ONE! meet
before and after the show at joe's crab shack for a brew
and a chat!
progeny task NINE
march 24 arrives and we devour paquet on magritte & magritte on magritte; carefull read the TASCHEN book on magritte--read it a second time backwards ONLY looking at the reproduced paintings; NEXT, read the MAGRITTE / TORCZYNER letters book. do the words of the letters INTERCEPT your readings of the paintings? receive your whoop-ass, scary, giant WORD/IMAGE project assignment.
progeny task TEN
march 31! nothing today--it's CESAR CHAVEZ DAY and your spring break has begun!
progeny task ELEVEN
april 7--> it may well be in the world of the body that word and image emerge at their MOST libido-driven. carefully 'read' the EWING love and desire photo-collection; WRITING TASK for today as well--> bring in a typed PARODY of Derrida's MEMOIRS of the BLIND book based on three or four xeroxed pictures from the LOVE AND DESIRE photo collection. By PARODY, i am not asking you to make fun of DERRIDA; if anything, in three to four pages i am asking you to channel him, or become him, or better yet, supplement him.
progeny task TWELVE
april 14 is the day and you walk into the room having carefully read the LAUF book on artists' books.
progeny task THIRTEEN
It is april 21 and we move to the beat of theater and music as we enter Ithaca New York and the JOY OF THE DESOLATE--playwright Oliver Mayer is in the house for a day that will explore the nature of performance as it relates to our WORD/IMAGE coupling.
progeny task FOURTEEN
SCARY IN-CLASS EXAM DAY! after the one-hour exam we will plunge into the pages of DAN CLOWES's magnificent LIKE A VELVET GLOVE CAST IN IRON.
progeny task the last
May 5th, cinco de mayo is here and you enter the room having read and listened to the work of Tomas Riley. Spoken Word performance poetry on the page and on the stage as we welcome TOMAS RILEY into our house for a series of set pieces and open discussion on poetry/CDs/electric media etc. your final word/image projects are due friday, the end of this week. MORE ON THIS LATER!
Back to the SDSU English & COMPLIT cybertrough of essential and useless cult/lit/arts linkages!